DR500 Permanent Magnet DC (PMDC) Right Angle Worm Drive Gear Motors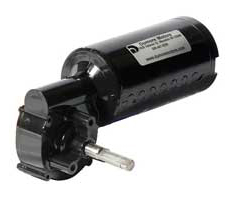 Quiet operation
High performance gearing for strength and durability in critical applications
Rugged construction
Optional mounting features to fit all applications
Custom design to meet your exact need
Competitive pricing


Dumore Motors DR500 custom fractional horsepower permanent magnet DC right angle worm drive gear motors are flexible, heavy duty, double or single reduction worm drive right angle gear motors rated to 500 inch lbs continuous torque.

The DR500 custom permanent magnet DC right angle gear motors are powered by Dumore Motors DM32 or DM40 permanent magnet DC motors in voltages from 12 to 240 VDC with output speeds from 6 to 58 rpm.
Series wound universal, AC, and brushless DC (BLDC) motor versions are also available.

Dumore Motors right angle gear motors are fully customized specifically for your application, so you get the gear motor you need at the price you expect!
Applications
DR500 fractional horsepower custom right angle gear motors are ideal for battery or AC powered lifting and moving, such as medical mobility, as well as many other OEM applications, including:
Features
Class H insulation (180 C)
UL Recognized
Specially engineered long life brushes
Rugged aluminum die cast gear box and end housings
Motor quality ball bearings
Resilient corrosion proof finishes
1/2" to 3/4" standard output shaft diameters
Continuous torque rating to 500 inch lbs
Steel and bronze high performance gearing for high strength and durability
High temperature synthetic grease filled gear box for long life and quieter operation
Options
Increased power and torque for intermittent operations
Custom motor windings from 12 to 240 VDC
Fixed or replaceable brushes
Custom finishes and colors, including bright zinc, e-coatings, powder coating and wet coatings
Face and foot mounting
Left or right hand output
Custom output shaft lengths and configuration, including keyway, flat, double flat or custom
Dual output shafts
Stainless steel output shafts
Dumore Motors DSW universal series wound, AC, or Brushless DC (BLDC) motor options
Custom lead lengths and terminations
Sealed for IP wash down requirements or weather proof applications
Thermal overload protection
Electro mechanical brake
Encoder
EMI / RFI noise suppression
Optional gear materials for specific applications
Oil filled gear box
Benefits
Some advantages of employing Dumore Motors DR500 r custom permanent magnet DC worm drive right angle gear motors include:
Quiet operation
Heavy duty and flexible design
Efficient motor for long life battery powered applications
Easily customized for your specific application
Designed and manufactured in the USA
UL Recognized
Custom delivery programs, including Kanban, Just-In-Time (JIT)
Dumore Motors extensive network of representatives for service and technical support near you
Contact Dumore Motors and let one of our engineers help you select and customize the exact right angle gear motor you need for your application. Learn more about how Dumore Motors custom right angle gear motors are recognized worldwide for unparalleled precision and quality craftsmanship, and why our customers say our service sets us apart from competition! At Dumore Motors, we make finding the right custom gear motor simple!
The Quality Your Products Demand - At A Competitive Price - Made In The USA!