Pump & Fluid Power System Equipment Motors & Custom Motor Assemblies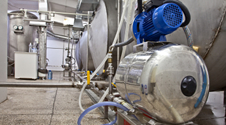 Dumore Motors is proud of being selected by pump and fluid power system equipment OEMs worldwide as their partner for design and manufacture of custom fractional horsepower pump motors and custom pump motor assemblies.
Some fluid power system equipment motor and pump motor application examples include:
Carbonator pump motors
Chemical transfer pump motors and assemblies
Explosion proof pump motors and assemblies
Fuel transfer pump motors and assemblies
Grease pump motors
Hydraulic pump motors
Pump motors
Sump pump motors
Dumore Motors custom fractional horsepower pump and fluid power system equipment motors are specifically designed for efficient operation with battery or AC power sources.
Powering with Dumore Motors custom pump and fluid power system motors offers OEMs advantages including:
Quiet operation
Reliable, long life brush designs
Submersible motor designs
Explosion proof designs for pumping flammable/volatile fluids
Sealed for extreme environment applications
Custom motor windings for longer battery life
Specific protective finishes for corrosive environments
Custom mounting features from face mount to foot mount bases
EMI / RFI filtering options for eliminating interference with controls
Full customization to meet your exact need
UL Recognized
Unparalleled quality and precision craftsmanship
Competitive pricing
Designed and manufactured in the USA
Custom delivery programs, including Just-In-Time (JIT) and Kanban
Fluid power system equipment and pump OEMs are typically seeking quiet operating motors that provide reliable performance and high outputs with a variety of fluids in potentially extreme environments. Dumore Motors DM28 custom fractional horsepower permanent magnet DC motors are often used in compact applications where a smaller motor assembly is required without sacrificing quality and reliability. The robust DM30, DM32 and DM40 custom fractional horsepower permanent magnet DC motors are often selected where higher performance is required to meet the demands of high flow rate applications. Dumore Motors custom mounting and sealing options allow OEMs to easily fit these motors to their pump.
Dumore Motors pump and fluid power system motors are designed for customization to your exact application, giving you the quality custom motor or complete OEM assembly you need, at the price you expect!
In addition to powering their pumps or fluid power systems and equipment with Dumore Motors electric motors, many OEMs partner with Dumore Motors to provide complete custom fluid power system motor assemblies, to save themselves assembly and manufacturing time and cost.
Dumore Motors pump and fluid power system motors and custom motor assemblies are recognized worldwide for quality and precision craftsmanship, and are completely designed and manufactured in the USA.
Contact one of our engineers today to start a conversation about your application and let them help you select and customize a pump or fluid power system motor or complete motor assembly for your application. Learn for yourself why our customers say our service sets us apart from competition! At Dumore Motors, we work to exceed your expectations and make getting the right custom motors and motor assemblies simple!



The Quality Your Products Demand - at a competitive price - made in the USA!