Small Motors - Big Power!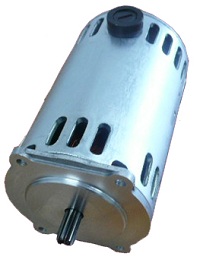 Dumore Motors DM28 custom permanent magnet fan cooled open-vent DC motor  

Same small motor size - increased power (0.5 HP) and speed (14,000 rpm)
Custom Open-Ventilated & Fan Cooled Permanent Magnet DC Motors

Challenge 
OEMs needed Dumore Motors small permanent magnet DC motors, but with increased power and speed, for applications such as hydraulic pumps, construction pumps, garden tillers, lawn & garden equipment and others requiring a small motor size, but more power and torque.

Solution
Because Dumore Motors are designed for customization to meet the exact end use application, Dumore engineers were able to quickly provide an ideal cost effective solution by employing a vented enclosure with optional fan cooling for better heat dissipation, Class H (180 C) insulation and replaceable brushes for the long life applications.

These open-vented DC motors can be cooled by natural ambient air flow through the motor, or fan cooled, depending on the application.
Open-ventilated (OV) permanent magnet DC motor versions are available for Dumore Motors popular Series DM28, DM30, DM32 and DM40 custom fractional horsepower permanent magnet DC (PMDC) motors
Small motor size
Continuous duty power to 2 HP
Speeds to 14,000 rpm
Vented for heat dissipation (fan cooled option)
Replaceable brushes for long life applications
Class H (180 C) insulation

Contact Dumore Motors for help selecting and customizing the right fractional
horsepower permanent magnet open-ventilated or fan cooled DC motor for
your specific application.
The Quality Your Products Demand - At A Competitive Price - Made In The USA!